Thank you for today
Kuro Obi at Bairro Portuguese
The Kuro Obi kids doing a kata during their SECOND demo for the day.
Bairro Portugues
Mar 13
Here's a HUUUUGE thank you to all of you who made the Kuro Obi Dojo participation at the Bairro Portuguese a great event, and a memorable occasion for all - in one way or another. Firstly, the student participants in no particular order.
Daniel and Guy Zvi
Monet and Anaïs Lowe
Chloe Woodhead
Monica Wan
Kelly Teng
Joe Roper
Tasha and Eve Ireland
Murray Cooper
Klim Tsoutsman
Taylia and Soraya Newlyn
James Fang
Simon Allaway
50 points each to Gryffindor Kuro Obi Dojo!
To Shihan Doug and Sensei Jenny, who generously came to support the event and participated by leading the demos, and in Shihan Doug's case, performed a kata with Senpais Ben and Shigemi. Sensei Jenny was ready to as well (with me), but we ran out of time. It was kata or board breaks – guess which won??
Thanks to Senpai Ben, who came out of semi-retirement from karate, to help us put on a show. I guess he still loves us :-) and to Senpai Shigemi who always helps out too when she can.
Big thanks also to Bowany Pugh, who came early at 7:30am, to help set up, and to keep me company in the lonely hours before the Fair opened at 10am. Then came up with the bright idea we could use a banner - so she WALKED to the dojo to fetch the banner off the wall for me. She said it wasn't far. But then I am decidedly NOT a walker :-)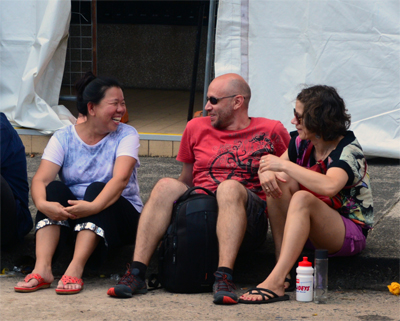 Just as importantly, I really have to thank the parents who spent all that time hanging around bored while their kids were having a great time breaking the re-breakable boards, and showing other kids how to do it.
Jessamy Newlyn (who also managed the stall while we were at the demo)
The Tsoutsmans (who hung around while Klim was being tameshiwari sensei)
Oshri Zvi (who has taken some good photos and video)
The Ropers (who had to wait between demos too)
Caitlin Anderson (who couldn't have held Chloe back if she tried!)
And last, but certainly NOT least, the (almost) indefatigable Andrew Ireland, who was literally (and figuratively) on his knees, still jet-lagged from an overseas trip, also helping kids learn how to break boards, and who stood in line for a 1/2 hr or so for me, getting my lunch!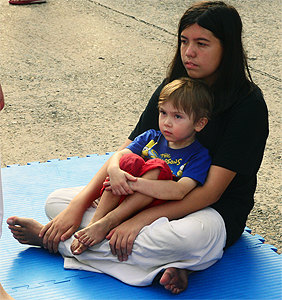 Hmmm.. that sounded like an Oscars speech.
I suppose I should mention those who WANTED to be there, for whom the spirit was willing, but the body was weak :-) YOU know who you are! And finally, Jack and Tom Britton - it was really good to see you guys again, and I'm looking forward to you keeping your promise of coming back to classes this year soon.
If I've forgotten anyone - I hope you're not offended because I didn't mean to, neither to forget NOR offend. Thanks to you too.
There will be photos and videos to come in the future on Facebook and Instagram. Keep an eye out for them.
Overall, I think it was very good event for us, and the kids and parents managed to hand out almost 600 fliers. Let's see how many come back. Even so, I'm keen to do it again next year. Any suggestions on how to improve it are welcome.
Once again, thank you very much, all of you.
OSU!
Domo arigato gozaimasu

Connect with Us:
Contact Info: